CLEARANCE - Seed Starter and Indoor Gardening Kit - Includes everything you need to grow your own herbal teas or salsa veggies indoors! Choose from Tea and Salsa Kit - Teas include: Lemon Balm, Peppermint, Chamomile, and Lavender Teas - Salsa Kit includes: Tomatoes, Cilantro, Onion and Jalapenos - $30 on amazon with 5-star reviews! - Order both and SHIPPING IS FREE!
Yes, we realize our prices seem too good to be true, but they are! We've been at this for over 10 years and our prices just keep getting better!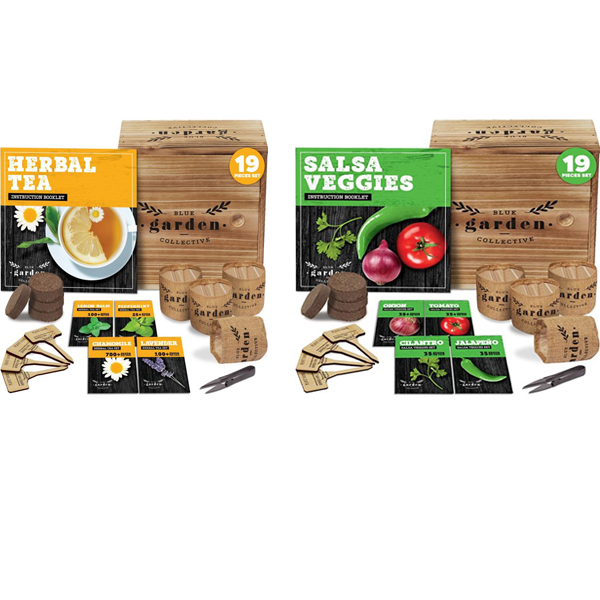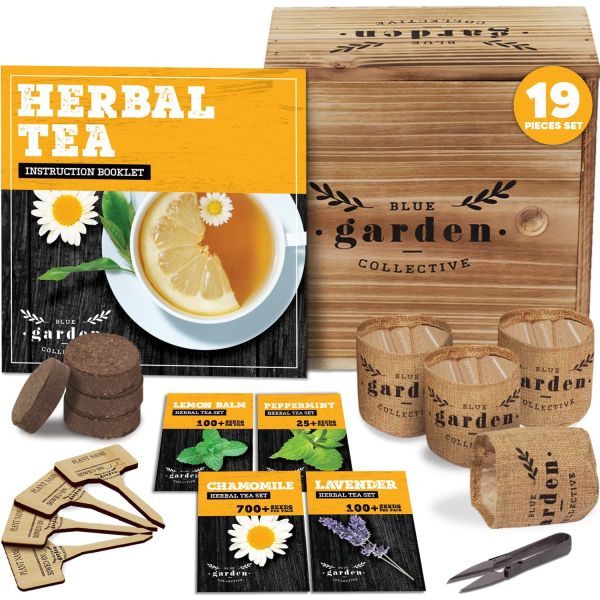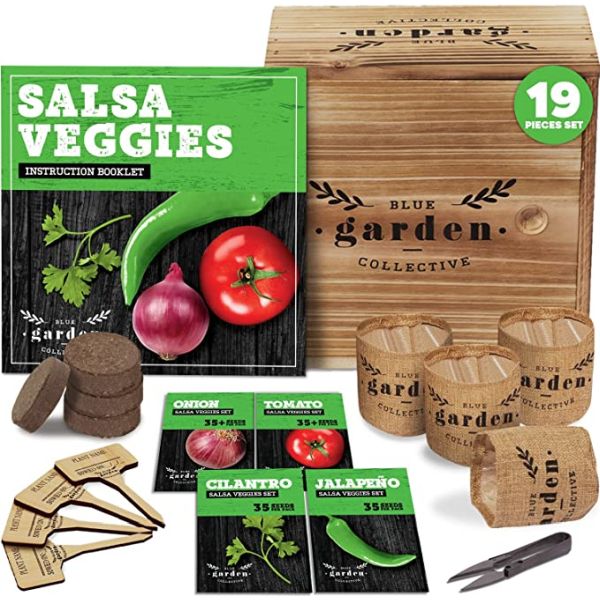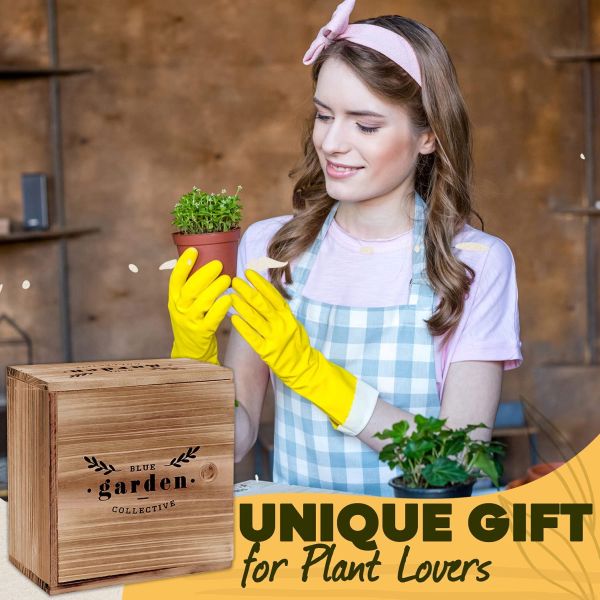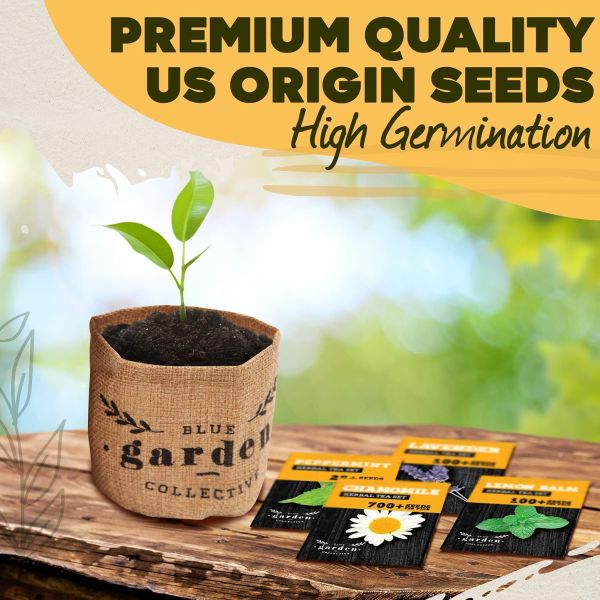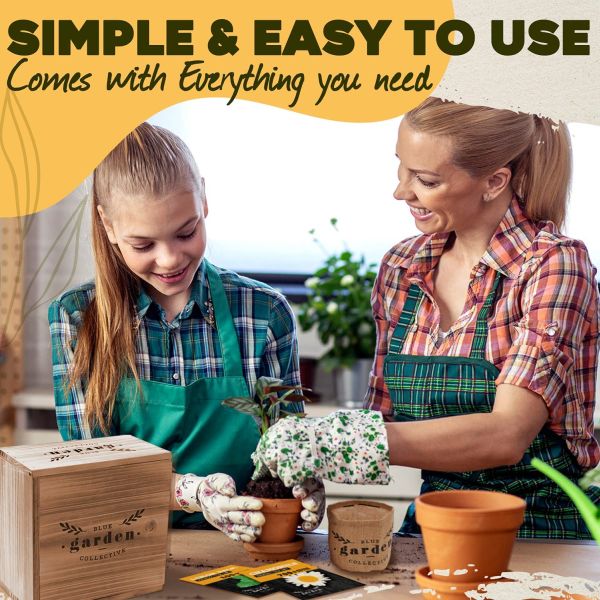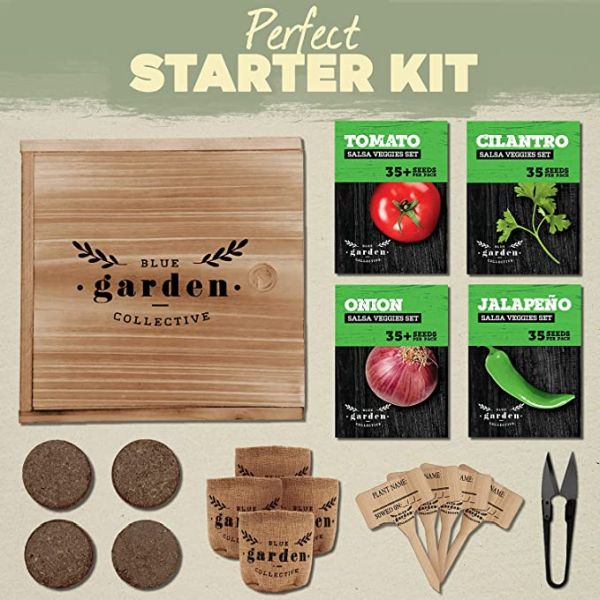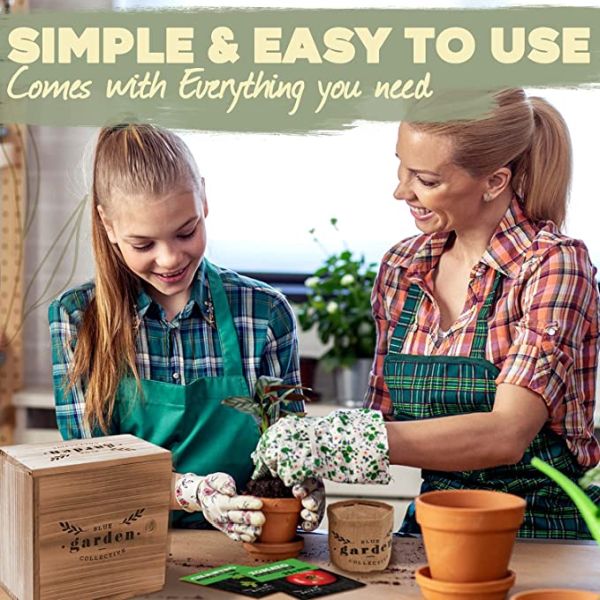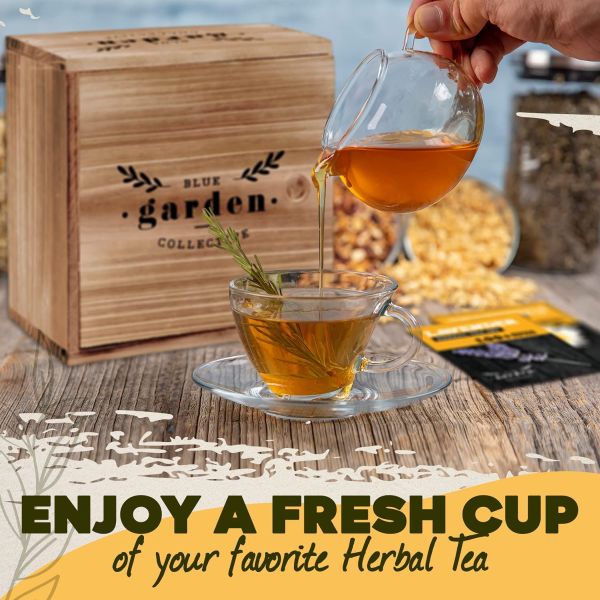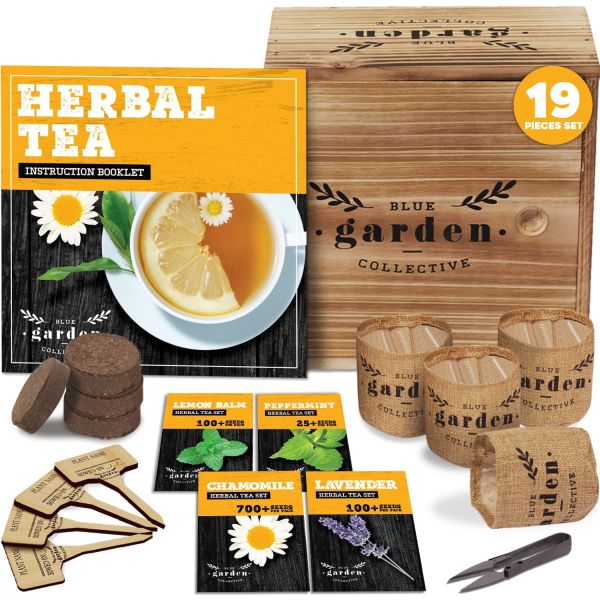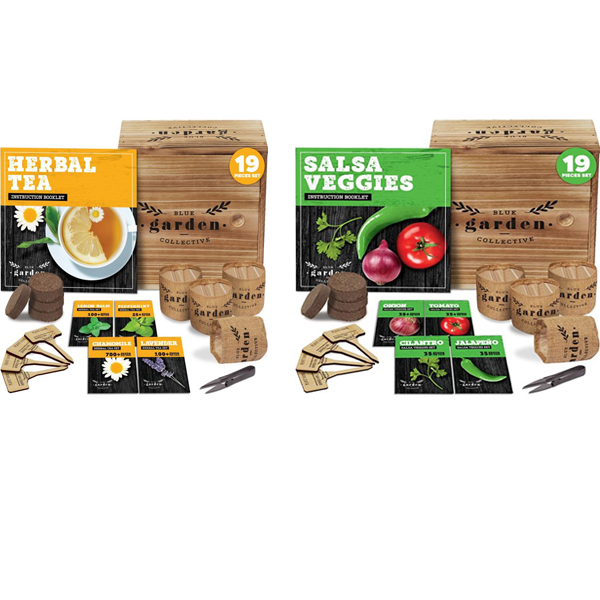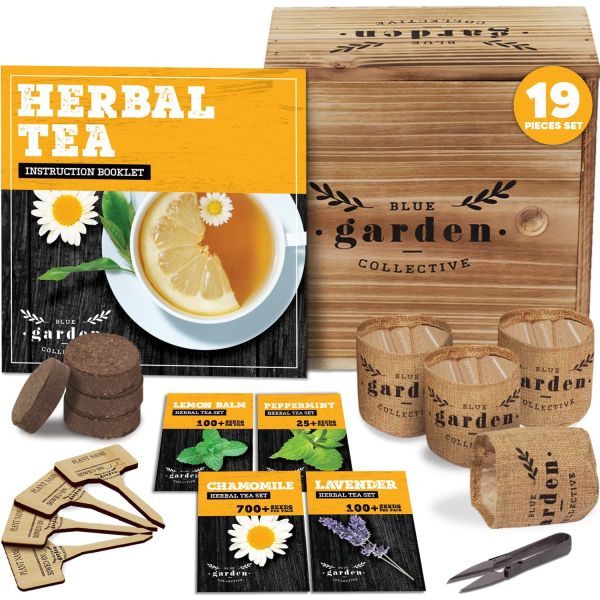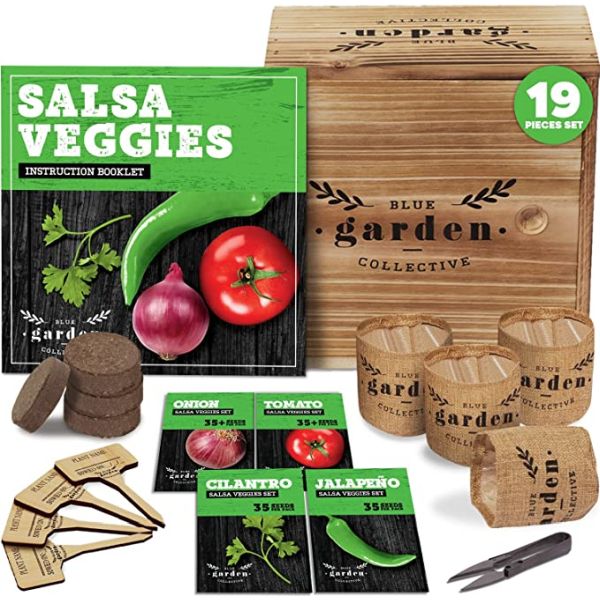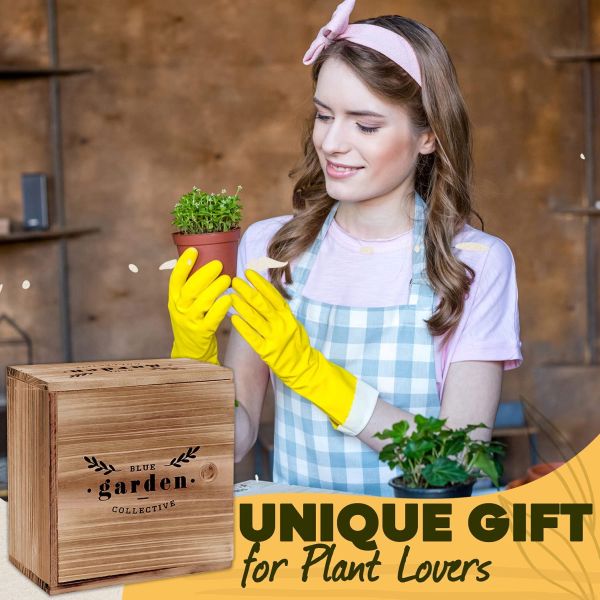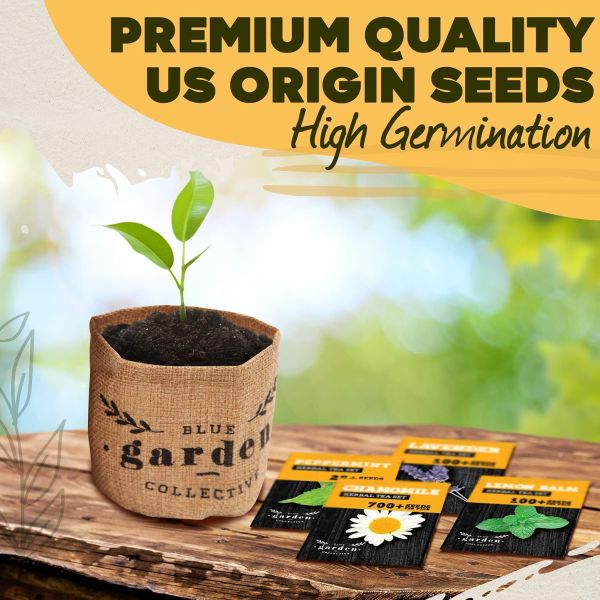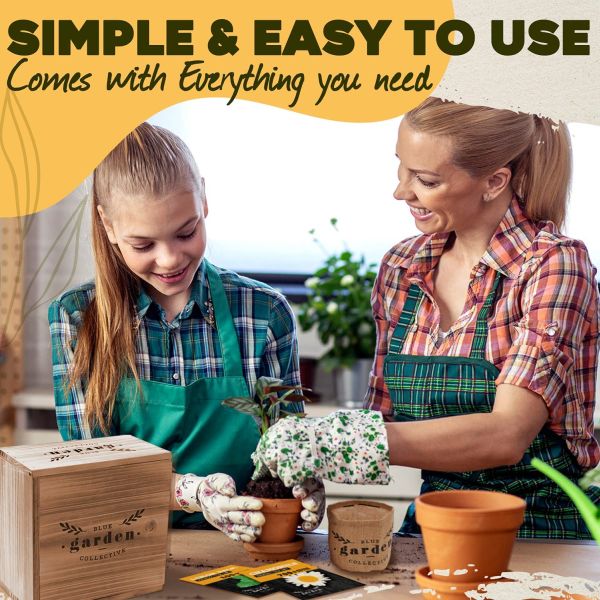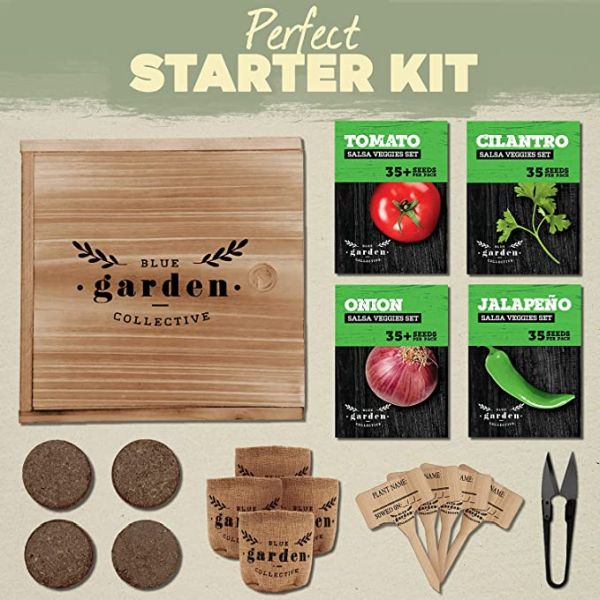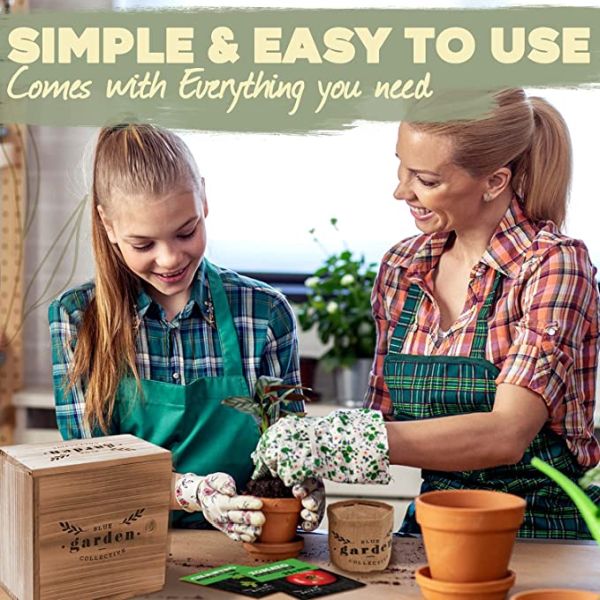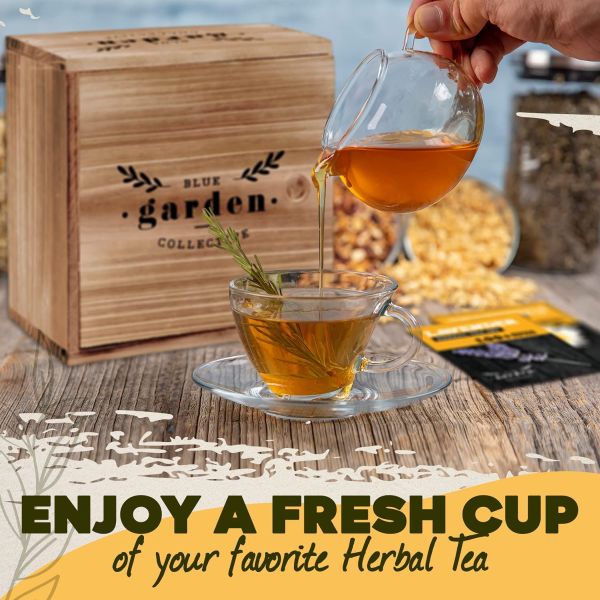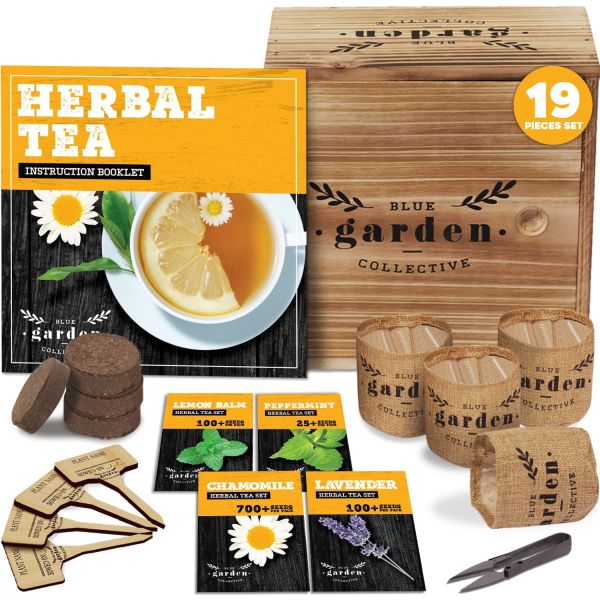 Product Description
Imagine if you can harvest tea leaves and flowers in your private garden every time you want to brew fresh tea. Life would become more bearable—you can finally sit down, grab a good book, and drink tea to soothe your senses and feel tranquil after an exhausting day. However, not all teas are made equally. The best ones are made from fresh ingredients.
Here are Blue Garden Collective, we aspire to fulfill your dreams of having a garden you can be proud of. Let us help you start small as you nurture different kinds of plants for your tea brewing needs.
Indoor Herb Garden Kit - It's every tea lover's dream to have an indoor garden where they can harvest herbal tea seeds they planted themselves. This herb garden kit allows you to plant lavender seeds and other organic tea flower and plants right in the comfort of your own home, backyard, or balcony. Let our kitchen garden kit help you brew quality herbal teas. Perhaps your indoor herb garden can use a few addition of herbal seeds for your daily tea time?
Herb Garden Starter Kit as Tea Making Kit - This herb garden kit contains chamomile, peppermint, lavender, and lemon balm seeds. Grow the herbal seeds yourself in your kitchen garden and have the luxury of drinking freshly brewed tea any time of the day. We included quality herbal tea seeds in each garden starter kit. We also included burlap grow bags, soil disks, pruning shears, bamboo plant markers, and a wooden gift box that doubles as a planter.
Indoor Garden Kit - Our Herbal Garden Starter Kit is a must-have for gardening enthusiasts and tea lovers. The herb garden kit lets you sprout herbal seeds, which you can harvest for fresh tea leaves upon fully growing. Our garden seed starter kit won't take complicated steps to set up and maintain. The seeds for planting are sourced ethically, 100% organic and are non-GMO. We also made sure that our tea garden kit will fit compactly in tight spaces.
Garden Starter Kit - Calm your nerves with a nice glass of lavender tea you harvested from your new indoor garden kit! Nothing beats a freshly brewed lavender tea from your kitchen garden kit with seeds for planting. Choose from lavender, chamomile, peppermint, or lemon balm. Use the plant markers, so you can remember which pot you planted your herbal tea seeds for planting in your seed growing kit.
Tea Growing Kit - This garden seed starter kit will make an excellent gardening gifts for women, especially for your friends blessed with a green thumb. The indoor herb garden kit can also be one of your gardening gifts for men for your pals who worship freshly brewed tea. The best kind of tea is made with fresh tea leaves--this tea garden kit is suitable for both novice and expert gardeners, and we've got an excellent choice of herbal seeds to help you start!

Your favorite salsa recipes aren't just delicious—they're also healthy! Its key ingredients include chili peppers, cilantro, onions, and tomatoes. Some variations include more ingredients when paired with certain dishes, but at its core, homemade salsa is always welcome to any party or social gathering.

The best homemade salsa is made from the freshest ingredients. With a dish like salsa, there's no room to hide if the ingredients you used aren't fresh. Here at Blue Garden Collective, we aspire to provide you with sustainable and quality ingredients. Let us help you grow all the herbs and spices you need for your signature salsa recipe!
Indoor Garden Kit – This grow your own salsa kit is a must-have for people like you who love growing their own spices and garnishes. Let this vegetable seed starting kit provide you with fresh, quality herbs and spices. Our vegetable seeds for planting are 100% organic and non-GMO. Now's your chance to cook homemade salsa from scratch and pair it with chips or your favorite Spanish dishes. Even beginners won't have any trouble growing the seeds in our indoor vegetable garden kit!
Indoor Herb Garden Salsa Making Kit – Our garden starter kit gardening gifts for men contain everything you need to grow the essentials of your salsa. Each salsa making kit includes non-GMO seed packets of tomatoes, jalapeno and habanero peppers, cilantro, and bunching onions. The salsa seed kit also has 2 expanding soil discs, 5 plant markers, 2 recipe cards, a pair of scissors, and an instruction booklet.
Vegetable Seeds for Planting – All seeds in our gardening kit for beginners are organic. Create an indoor herb garden and harvest seeds for your signature salsa recipe. You won't have to run to the grocery store, fall in line, and waste precious time with our herb growing kit. Get straight to cooking with our indoor garden kit! Nurture garden seeds for planting vegetables in your balcony, kitchen, or in a small garden space in your patio.
Indoor Vegetable Garden Starter Kit – Nothing beats the satisfying feeling of harvesting herbs and spices you planted yourself. Our grow your own salsa kit contains seeds for the ingredients that make or break an authentic salsa recipe. This indoors seed starter kit also contains 2 large soil disks, which expands up to 2 quarts of soil. Place the seedlings near the kitchen window and watch the gardening seeds sprout in no time.
Gardening Gifts for Women – Running out of gift ideas for your loved ones? Why not surprise them with our grow your own salsa garden kit? This indoor herb garden kit and gardening gifts for men allow your loved ones to experience the joy and thrill of growing seeds and the momentous time of harvesting. Your recipient will surely love our seed starter kit's thoughtful design. All they have to do is visit their indoor salad garden kit to get most of the ingredients they need.
Deals you might have missed...
Want access to SECRET DEALS?
Txt SECRET to 88108 Number of messages depends on activity. Txt and data rates may apply.
Txt STOP to cancel and HELP for help. Support at [email protected]
See terms and privacy for further information.