Stainless Steel Beer & Beverage Growler - 64 Oz. Bottle with Secure Swing Top Lid for Freshness - $30 on amazon, but just $14.49 from us! You're getting a GREAT deal on these because they have assorted beer brand logos and prints on them.. which, in our opinion, make them even better - ORDER 4 OR MORE AND SHIPPING IS FREE!
Yes, we realize our prices seem too good to be true, but they are! We've been at this for over 10 years and our prices just keep getting better!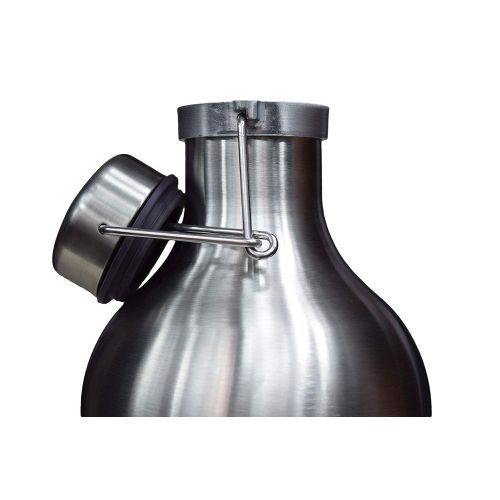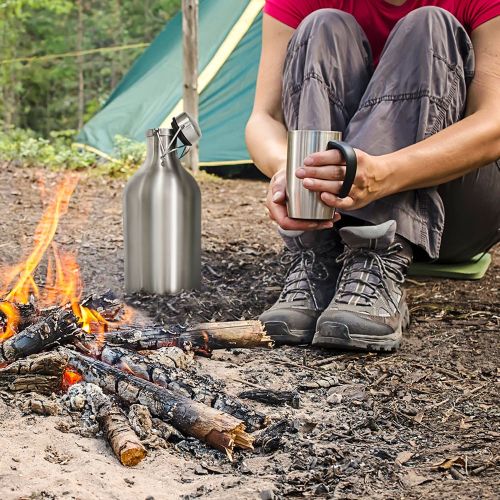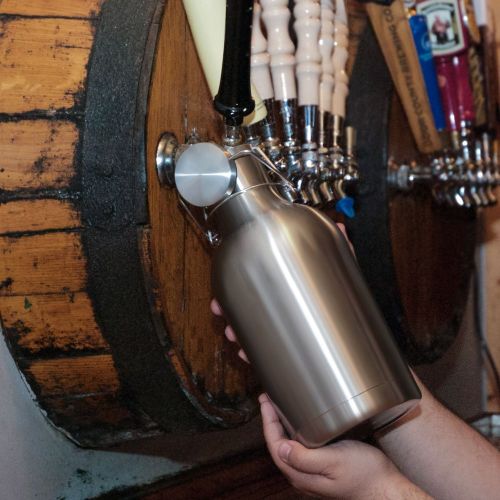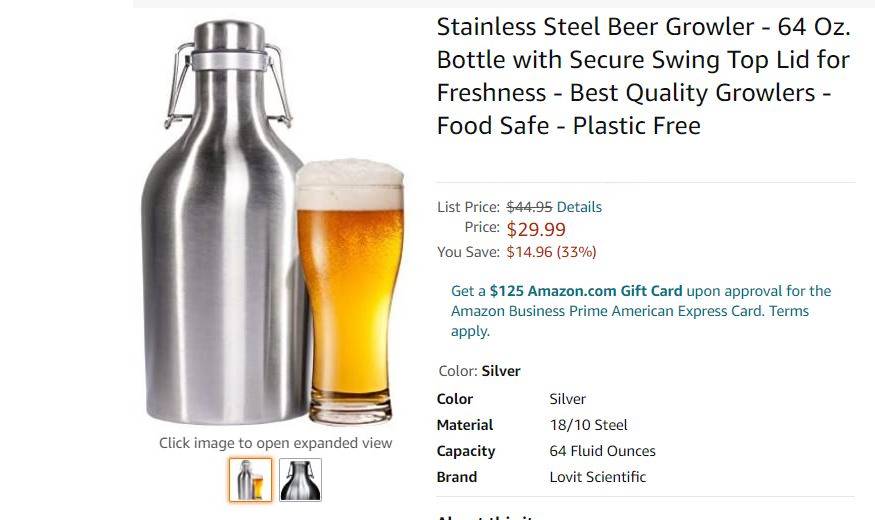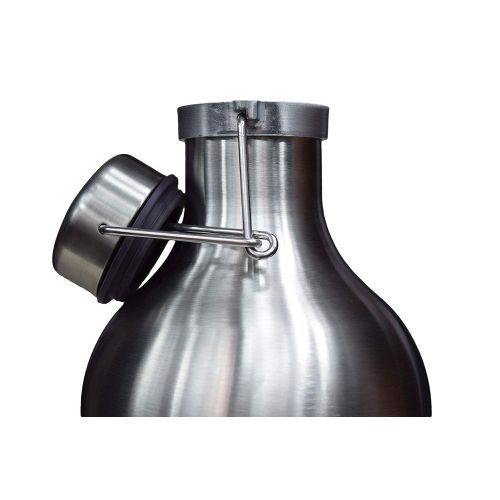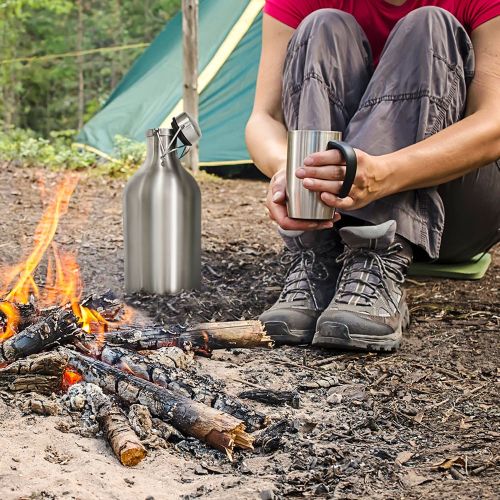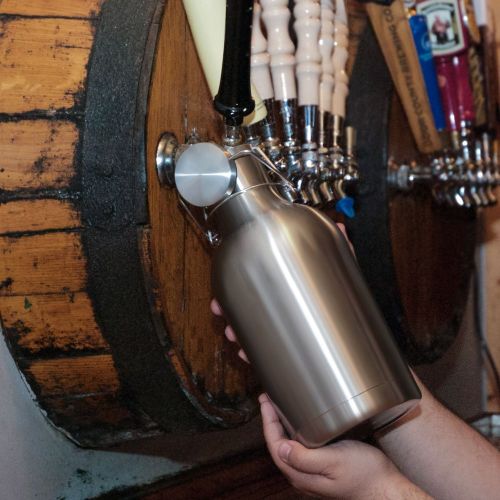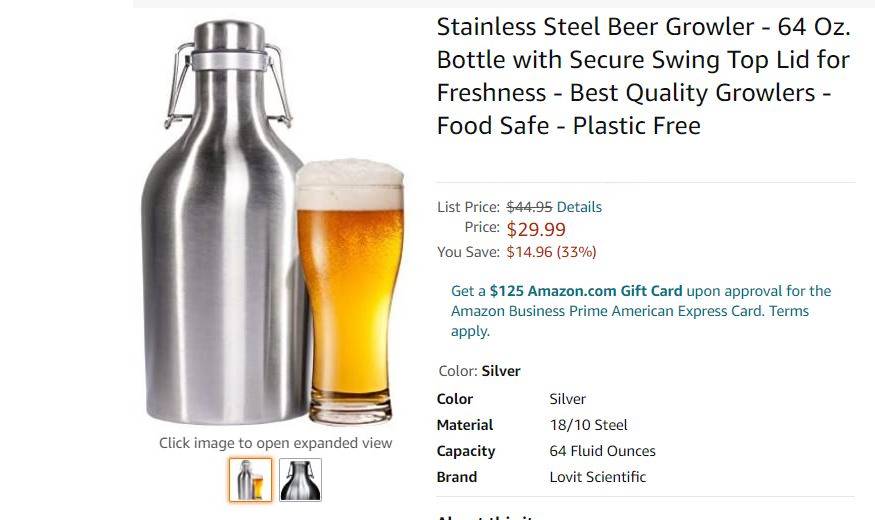 Product Description
Don't you hate it when you love a beer at the brewery and buy a take-home container only to end up with flat, favor-less ale? Ordinary bottles just can't preserve the freshness of beer, but that doesn't mean that it's not possible to enjoy straight-from-the-tap beer at home. The Lovit Scientific Stainless Steel Beer Growler will allow you to savor your favorite beers to the fullest! The Lovit Scientific Stainless Steel Beer Growler is a 64 ounce stainless steel growler bottle that is made to suit the discriminating tastes of master brewers and craft beer connoisseurs. We manufacture the growler beer bottle out of 18/8 stainless steel, a completely nonreactive metal that won't tarnish, corrode, rust or alter the flavor of the beer you place inside. Unlike other growlers for beer, the bottle has no plastic lining to diminish the flavor and purity of beer. Plus, the growler bottle won't break like glass growlers for beer can. Measuring 4-1/4 inches in width by 10-1/2 inches in height, the Lovit Scientific Stainless Steel Beer Growler is easy to take with you on the go. The growler for beer has a swing top with a silicone seal. The swinging action ensures that you can open and close quickly, while the silicone guarantees that the cap stays firmly in place to prevent spills. With this unique cap, the beer growler provides an optimal airtight seal to ensure that your beer tastes great when it comes time to drink.
Product Features
This growler for beer is the best way to enjoy your favorite micro brews and craft beer from the local brewery. FLIP-TOPP seal is a beer saver that holds in pressurized freshness.
Nonporous single wall growler beer bottle is simple to hand wash just like all of your beer brewing equipment. LIGHT PROOF BOTTLE perfect for IPA BEER
Beer growler 2 go made out of 18/8 metal is 100% plastic free, so it won't affect the taste of your beer; Heavy-duty to hold up to wear and tear (not an aluminum growler)
Flip Top Growler bottle has a 64oz (2L / Liter) capacity, so you can bring along beer to share to a party
Deals you might have missed...
Want access to SECRET DEALS?
Txt SECRET to 88108 Number of messages depends on activity. Txt and data rates may apply.
Txt STOP to cancel and HELP for help. Support at [email protected]
See terms and privacy for further information.