Polarized Night / Rainy Day Driving Glasses - With it getting dark earlier now, it's even more important to make sure you can see clearly at night! Drastically improves visibility at night and during rain! Reduces glare and "startbursts" from oncoming headlights! Even if YOU don't need these, think of someone who may! $25 on TV, just $7.49 from us! - The special design allows them to also fit over prescription glasses! - $1.49 shipping, but if you order 2 or more, SHIPPING BECOMES FREE!
Yes, we realize our prices seem too good to be true, but they are! We've been at this for over 10 years and our prices just keep getting better!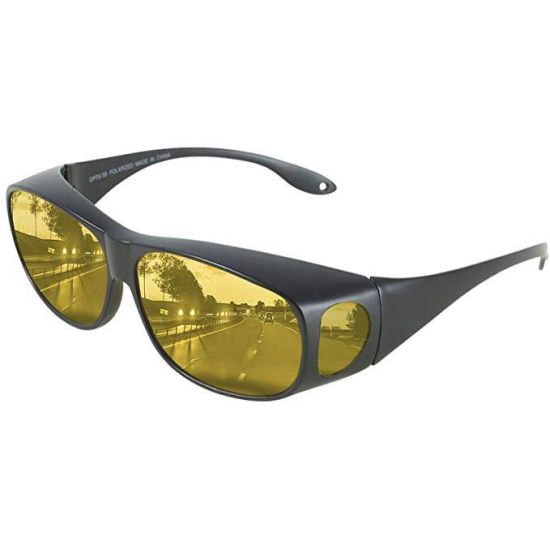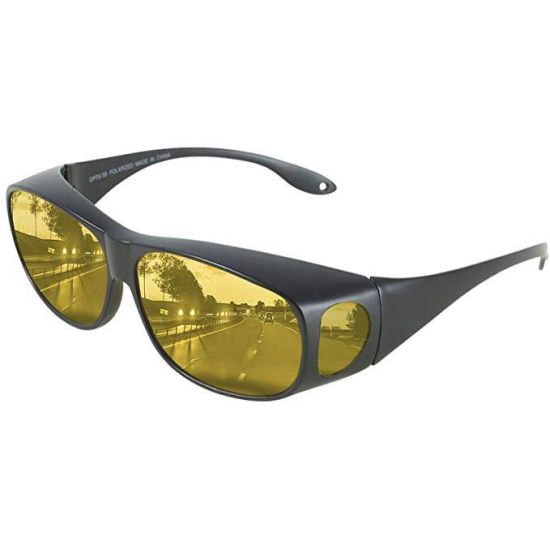 Product Description
Equipped Polarized Lenses. Lightweight. Resistant. Enhanced Clarity. Ultra HD Vision.
Have you ever had the impression that your eyelids get heavier at the wheel? Darkness has significant consequences for road safety, and is subject to eight times more accidents than normal! Clearest Sight is a new innovative device that is durable, lightweight, resistant, and are fully equipped polarized lenses. Clearest Sight let's you see enhanced color, and clarity much like high definition TV's, and it's at the fraction of a price of designer glasses. It protects your eyes in style from all sides (unlike clip-ons), just slide over prescription glasses. Whether driving, reading or golfing, these versatile goggles make seeing a whole new experience. Clearest Sight is the best choice for safe driving in the evening and night, and it gives enhanced clarity instantly! It has been designed to shield your eyes from harmful UV rays and block light from the sides. This high-definition lens technology dramatically reduces glare, provides clarity, and enhances color like you've never seen before!
LIGHTWEIGHT & RESISTANT
These goggles are lightweight, and resistant. You won't even notice you have them on.
HELP PROTECT AGAINST FATIGUE & MIGRAINE
Clearest Sight may help fight constant fatigue, and migraines that happen while driving!!
NIGHT VISION
Once you start using Clearest Sight, you will see a huge decrease in glare which may help improve your vision as soon as you put them on.
HELPS WITH LOW LIGHT & FOG CONDITIONS
Clearest Sight has also been designed to be perfect for Low Light, and Fog Conditions. During these conditions its very hard to see with oncoming light and glare, the polarized lenses may help prevent this and help to avoid a car accident at any given time!
Want access to SECRET DEALS?
Txt SECRET to 88108 Number of messages depends on activity. Txt and data rates may apply.
Txt STOP to cancel and HELP for help. Support at [email protected]
See terms and privacy for further information.